DO YOU WANT TO ORGANIZE ALL OF YOUR HORSE'S INFORMATION IN ONE EASY PLACE?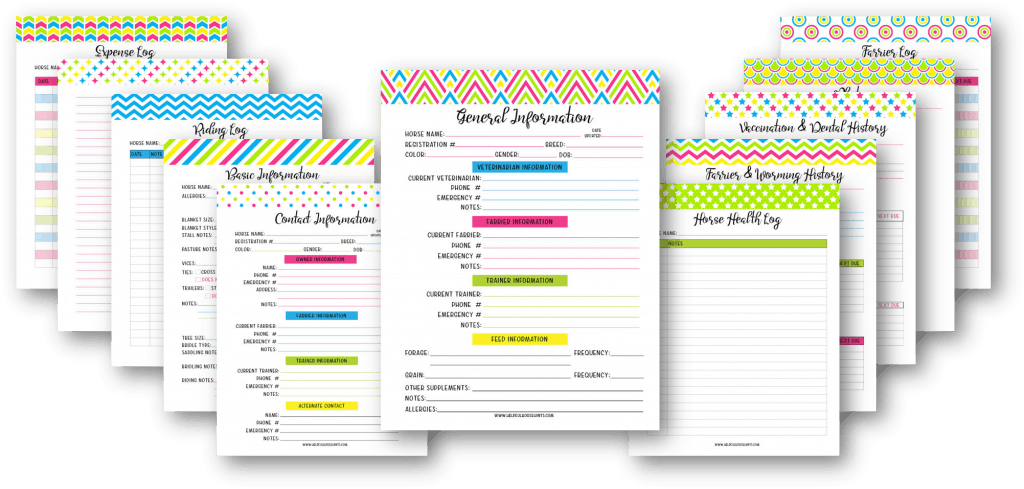 Whether you have one horse or a hundred, keeping all of the information straight can be a chore. When you think about it, there is a lot to remember when it comes to our equine companions. Things like…
🐴 Basic Horse Information
🔨 Farrier Schedules
📞 Phone Numbers
🩺 Veterinary Records
💉Vaccine Dates
🐛 Worming Dates
💊 Health Log
In fact, there are 13 total pages in this horse record form kit including:
✅ 2 Cover Options
✅ 3 Different Contact / General Information Forms
✅ Farrier and Worming History
✅ Horse Health Log
✅ Sheet to add photos
✅ Vaccination & Dental History Form
✅ Expense Log
✅ Farrier Log
✅Lined Note Paper
Now is the perfect time to finally sit down and get all of your horse's information organized. These printables are a perfect start to your equine binder project.
THIS HORSE RECORD FORM SET NORMALLY SELLS FOR $14 BUT, I HAVE A LIMITED TIME DEAL SO YOU CAN GET THIS TODAY AT 50% OFF FOR ONLY $7