Getting Organized in 2021 Doesn't Have to be Hard!
Organize your Dog Records with these Gorgeous Printables!
When I first got my dog, I didn't think there would be so much involved in his care. I mean, really, dogs are pretty easy but the first time you go out of town or have a vet ask a question you don't know the answer to, you realize that you really should have written some stuff down.
That is where these dog binder printables come in handy. They are ready to go and easily fit into any standard 3-ring binder. We offer 2 Color Options. Both have the exact same forms and number of pages.
WANT BOTH SETS? SAVE OVER 30% WHEN YOU BUY THEM TOGETHER

Product Details
I learned a lot about what information is helpful to collect through the time I spent at a small animal clinic as well as through personal experience with my own dogs. By putting this information all in one place, like a pet binder, I can feel more organized and have all of the information I need in one place.
It also ensures that if I need someone to watch him while I am away, they can easily find the information they need even if they can't reach me.
I've organized the printables into several sections, but when you assemble your own feel free to put them in an order that makes sense to you and your household. Not everybody runs things the same, and not everybody will need or use all of the pages in the kit. That's OK!
Covers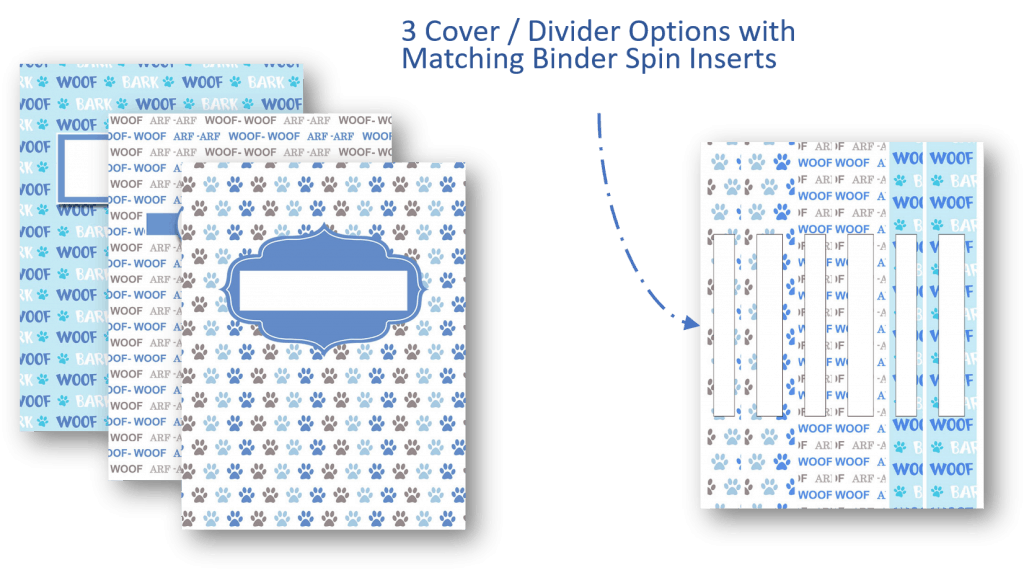 First up we have a variety of different cover options. There are two ways these cover pages can be used.
If you are using a binder that allows inserts, you can insert a cover into the front and spine of the binder for easy identification.
If you have multiple pets, you can use one of the cover sheets as the front-page for the section for each dog.
Dog Information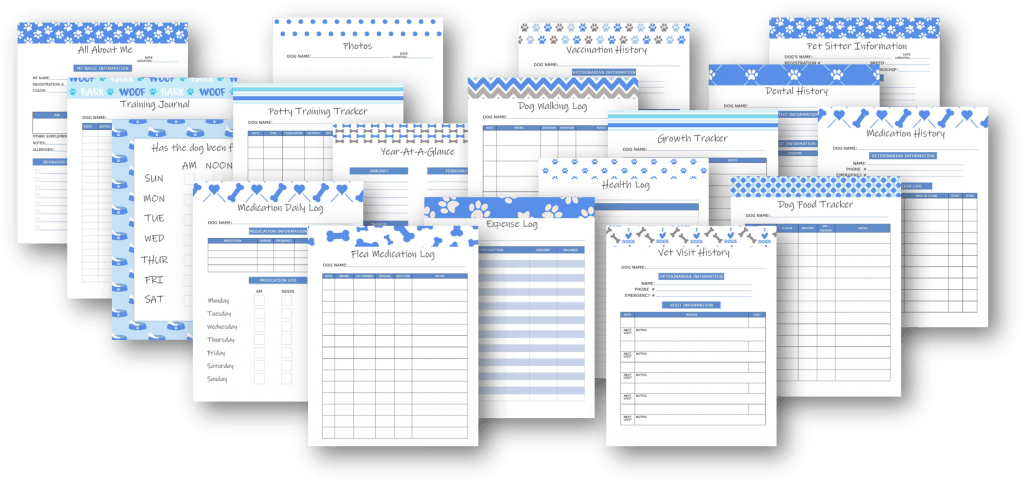 This section holds all of the general information about your dog.
🦴 Dog Information Sheet
🦴 Feeding Tracker (Sunday start or Monday start)
🦴 Dog Walking Log
🦴 Potty Training Tracker
🦴 Growth Chart
🦴 Dog Food Brand Tracker (very helpful for dogs with allergies or sensitive skin)
🦴 Expense Tracker
🦴 Flea Medication Log
🦴 Year-At-A-Glance Pet Calendar
Medical Records
This section is great for keeping track of all of your dogs medical and dental records.
🦴 Section Cover Page
🦴 Medical Record
🦴 Vaccine Record
🦴 Vet Expense Log
🦴 Vet Visit Log
🦴 Medication Tracker
🦴 Dental Visit Log
Pet Sitter Instructions
It isn't always easy being away from our pets, but when it is necessary, we want to make sure that the person caring for them has as much information as they could possibly need. This helps to ensure that we can rest easy while we are away from them.
In this section, there are several pet sitting form options available. I've included options for in-home pet sitting as well as for those who take their pets for a petcation at the sitter's house.
🦴 Pet Sitter Instructions (at home)
🦴 Pet Sitter Instructions (away)
Note Pages
There are two styles of lined note pages and 1 style with blank note pages that matches the rest of the set and can be used for anything you can imagine including extra record-keeping pages, journaling, memory-keeping and more.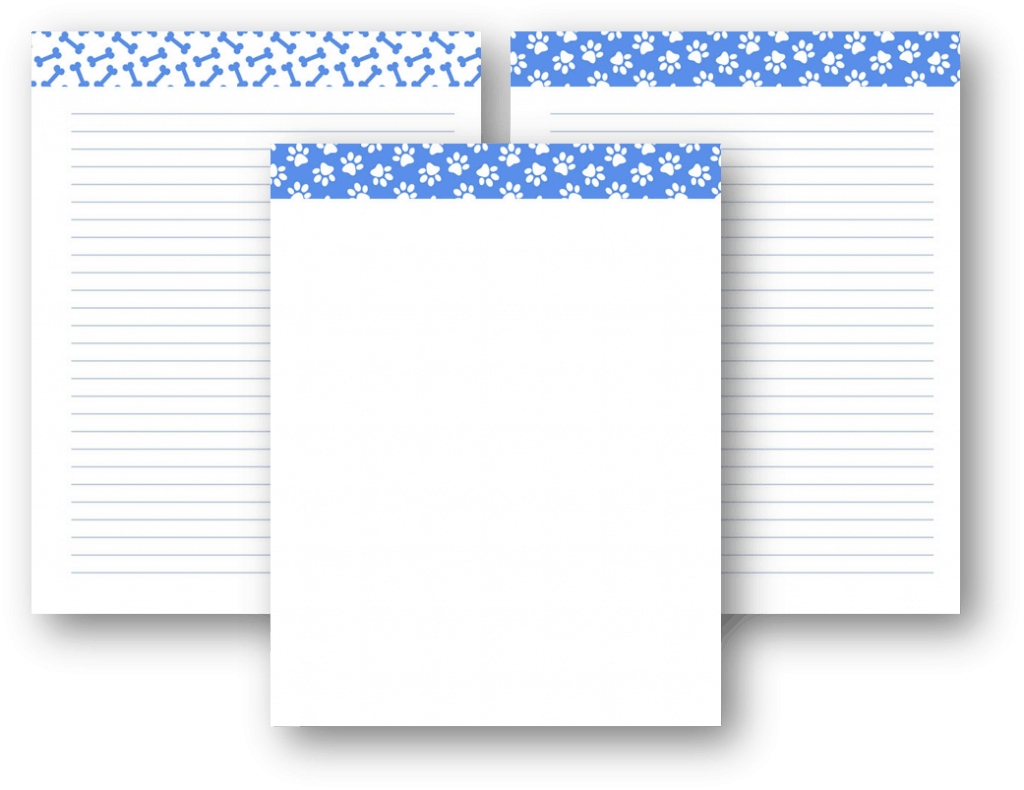 Divider / Quote Pages
These bonus pages can be used as divider pages, to separate sections, to separate dogs and more. Each has a cute dog-related quote.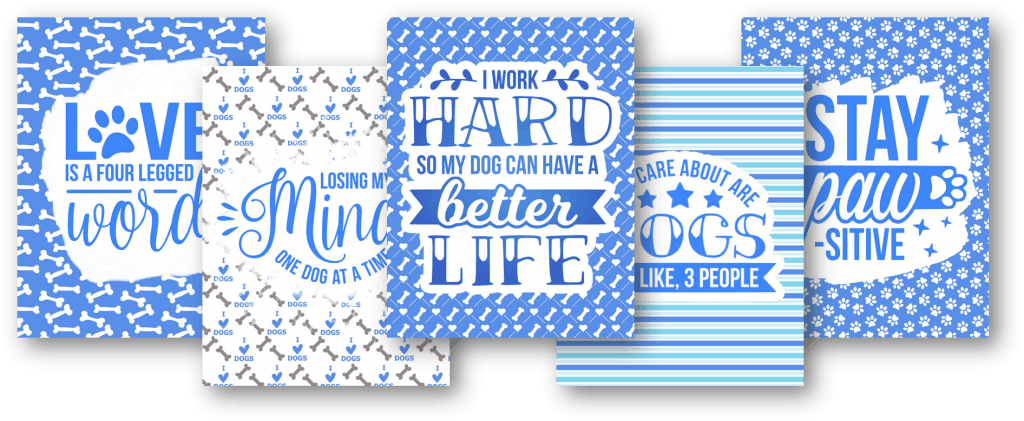 These also make a great gift for the pet lover in your family!